Sewer Line Repair in Columbus, IN
Problems with your sewer line spell big problems for the rest of your home. Make sure that what goes down, stays down! Call Barr Plumbing Service, Inc. to troubleshoot sewer line issues and to provide the services that keep your home protected against backflow and other sewer problems. From sewer cleaning to backflow prevention, we do our part to ensure homes throughout Columbus, Seymour, and Indianapolis, IN have safe, functional sewer lines.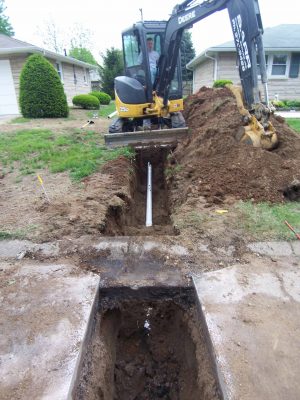 Signs of a Sewer Line Issue
Your sewer line is buried, which can make it hard to spot problems with it. How do you know if you need to call a plumber? To make matters worse, many different factors can influence sewer lines issues, including temperature change, tree roots and corrosion. The easiest way to tell if there's damage or a clog in your home's sewer line is to look for the following symptoms:
Lower water pressure
Slow draining drains
Gurgling and bubbling from drains
Backflow from drains
Your drains are a one-way street. If they're not draining, it's a sign of something more sinister happening in your sewer line.
Sewer Cleaning, Repair and Installation
It's easier than you think to prevent drainage backups and sewer issues from causing problems in your Columbus, IN home. Just give us a call! We use state-of-the-art equipment to resolve any issue in your sewer line, be it tree roots or calcification. We can auger and jet through sewer line issues and we follow up with drain cleaning, to ensure the integrity of your sewer line.
Turn to Barr Plumbing Service, Inc. for cleaning, repair and installation services. We can even fix bigger problems like a collapsed line, so your outbound plumbing works the way it should.
Video Camera Pipe Inspection and Locator
Video camera pipe inspection takes the guesswork out of problems hiding inside pipes and underground. A locator will assist in locating the location of plumbing lines
We Keep Sewer Lines Clear
If you suspect problems with your sewer line or have urgent need for a drain cleaning, waste no time in calling Barr Plumbing Service, Inc. We know how to navigate a problematic sewer line and will get your drains flowing smoothly again in no time at all. Contact us at 812-376-9426 to speak with a professional who can help you schedule service for your sewer systems, water heaters, sump pumps, and more.